Collage, Vision Board or Montage!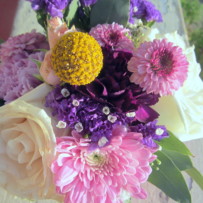 As summer winds down, many of us are looking at new beginnings, especially with school in the coming weeks. I'm excited to introduce students to the world of floral design- eager individuals who want to learn how to make beautiful floral arrangements, and perhaps consider a career path. I look over the classroom of faces,  remembering what it's like to be "new", venturing into the unknown, nervous, whether or not being "this uncomfortable" is worth the personal cost of time, money and effort! It's an incredible investment, for them and me. Putting yourself into a new space with people you don't know doesn't come easily. I'm reminded of how vulnerable we are as creative souls…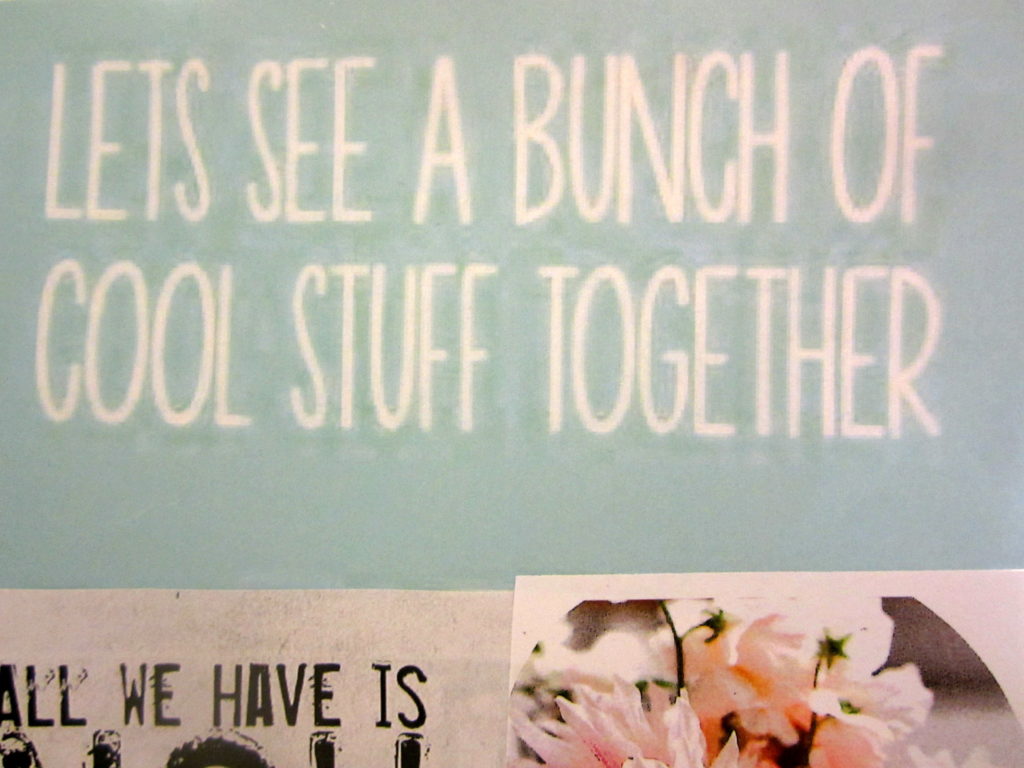 Last April I was invited to Lightbridge Hospice's Volunteer Appreciation Rejuvenation Day! We engaged in various activities: Vision Boards, Healing Touch, Meditation, Zen Drawing, delicious food, meeting new friends.
First challenge of the day: Collage (or what is referred to as a Vision Board). I haven't done anything like this since grade school.  I was terrified. We had 25 minutes! So as any creative does, I quietly freak out, then react with stream of consciousness…. my silent voice… "fill the white foam board as fast as you can…" color, texture, form-  cut, copy, paste, repeat…. and we're not talking computer skills here, not even Pinterest… we're talking scissors, glue sticks, & zillions of images in folders to choose from!  When the smoke cleared, here's what I was staring at…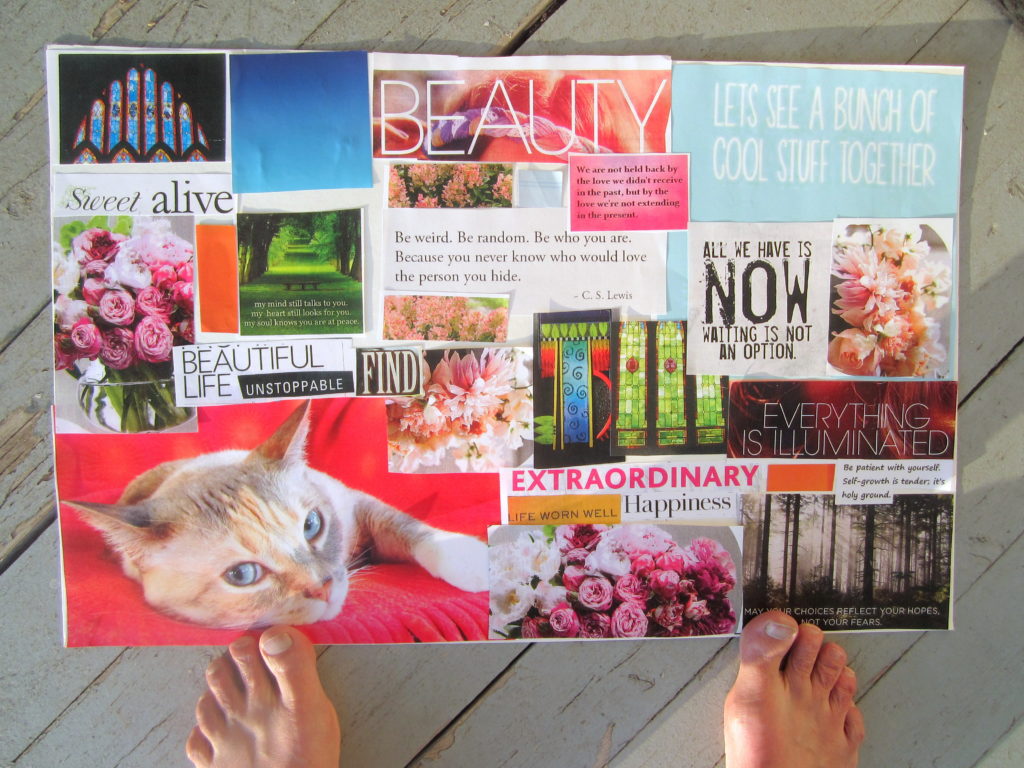 The timer went off, and we started to clear the table for the next group. The facilitator asked us if we wanted to share anything about our collages. I didn't really think about it, until I started to read some of the quotes I had pasted, between the colors and images. Deep in my subconscious, I had ventured into vulnerability… silently, I sat there for a moment.  A few tears… a feeble attempt at regaining composure… I was glad to be in the presence of kind people.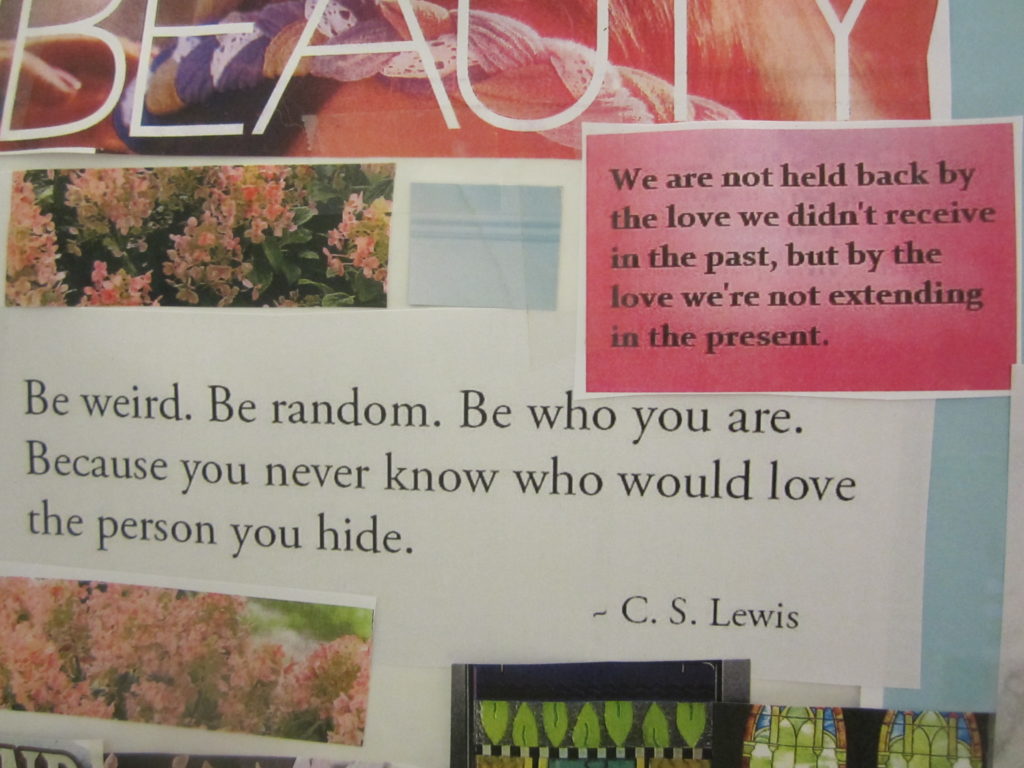 Is there a message to share? Only that I wish for you the courage to invite new experiences & challenges into your life.  It could be as simple as trying a new food, listening to new music, understanding a different perspective, meeting a new friend or recalling old memories. Life is full of opportunities to grow, to enrich our sensibilities, to reflect on and cherish what we take for granted- without even knowing it.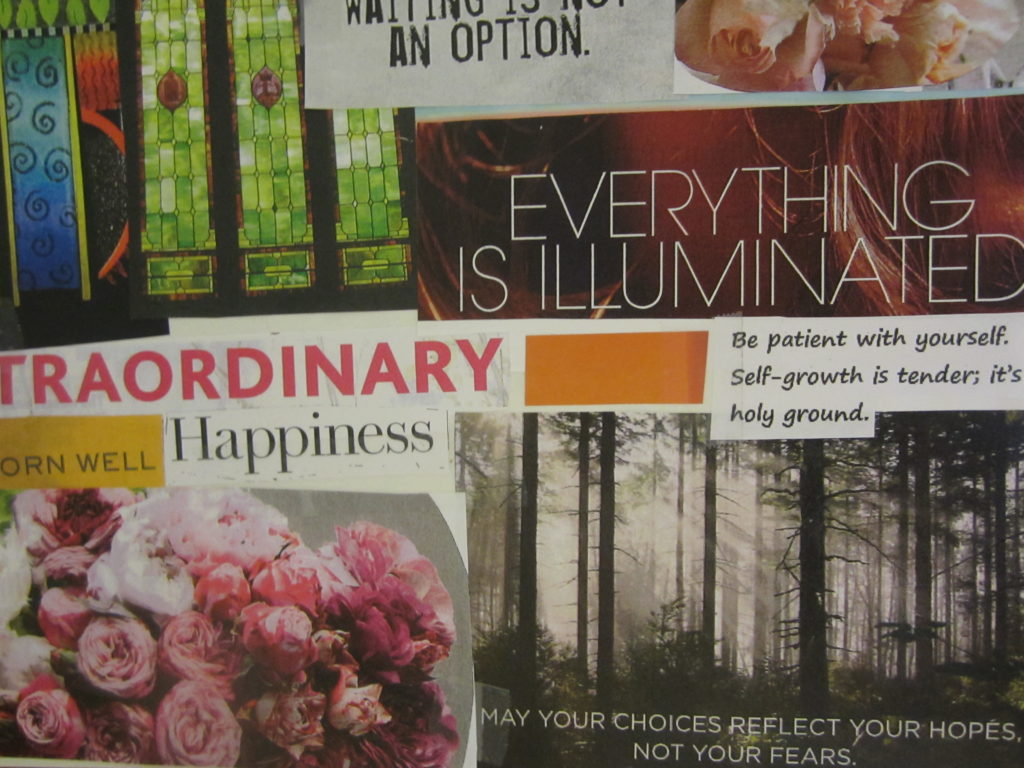 Consider the quote "Life Begins at the End of Your Comfort Zone" (-Neale Donald Walsch) 
It's a tough concept to grasp. People tell me they are "self taught", but they seem to be stuck in repetition- jaded or bitter at their choices in life or career. People in education lack enthusiasm for critical thinking and creativity- I want to ask the experts… "so… When Did You Stop Learning?" …
because when you're at the end of your comfort zone, you should be at the beginning of another impossible adventure of simply learning or trying something new!   Whether you have a bucket list or a montage of memories, I wish you happiness in discovery and Godspeed on your journey  …