99 and counting!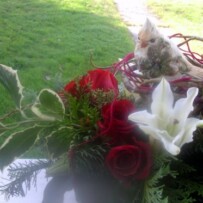 Welcome December! Thought you might like a glimpse of an old fashioned Christmas- there's something about a bird in a cozy nest amidst evergreens and blossoms that settles us into this season. This photo is a floral arrangement I made for my wonderful land lady, Millicent.   Did I mention, she just celebrated her 99th birthday in November this year?! and is looking forward to joining the esteemed group of Centenarians in 2013!
Millicent is a true lover of life and beautiful plants!  since I've known her, she has surrounded herself with a vast collection of orchids- very fond of cymbidiums for her backyard, and her East facing windows in the sun room off her kitchen are filled with happy phalaenopsis orchids that bloom far beyond normal expectations! Those plants produce multiple spikes of more than 20 blooms! Millicent laughs, and says it's the fertilizer, but I think it must be the positive energy in that space!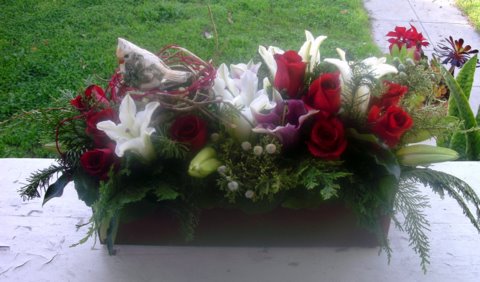 Born in 1913, Millicent grew up on a farm in Encanto, here in San Diego. Back then, that whole area was farm land and ranches. She tells the stories of raising chickens, how she and her siblings had the task of cleaning the eggs with fine sand paper before they were sold at market- even today, this is a preferred practice with organic egg farms. She was raised on those eggs, on fresh vegetables and fruit from their garden, and citrus from their trees. This is a woman that still has all her own teeth, straight and strong, and she swears that healthy eating when growing up is the reason! I suppose there must be a genetic advantage somewhere, too!
I guess my fascination with Millicent is the fact that her life is what the current "Trend Spotters" of the 21st Century are espousing! She grew up in a generation where organic was the norm, and recycling was paramount. We call it "repurposing", or "upcycling" now, but the buzz words that make it socially acceptable and fashionable to a new generation basically come down to… well, being responsible for our choices, and living with intention. "Less is more" is a good rule of thumb in lifestyle choices, as well as floral design!
How do you live thru a century of advances in technology, revolving politics of each decade, social changes of empowerment and media overload?  Millicent embraces life, each precious day. Raising a family, surviving a tragedy, growing a garden, being a friend- every day brings a unique challenge… Each day turns into years, and I am inspired by her strength to endure and to smile. So in this New Year of 2013, I look forward to more time with Millicent, the old fashioned kind of conversation, listening, grounding me in her life stories, bringing her hand tied bouquets of fresh flowers, exclaiming over her orchids!… and one of our favorites- enjoying a cheeseburger from Rocky's in Pacific Beach!
I wish all of you time to enjoy life's simple pleasures! Merry Christmas, everyone!